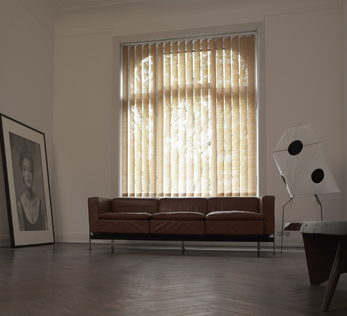 Verticaal
De HR Design verticale lamellen is een veelzijdig product wat nog steeds als modern wordt ervaren. U kunt de verticale lamellen uniek maken door verschillende lamellen in kleur of transparantie met elkaar te combineren.

Onze verticale lamellen zijn uitvoerbaar in PVC en stof. Onze PVC lamellen zijn modern, praktisch in gebruik en geschikt voor de badkamer. Voor een warme uitstraling kunt u uit onze stoffen collectie kiezen met een variërende breedte van 89 mm. of 127 mm.

Door het kantelen van de verticale lamellen bepaalt u zelf de lichtinval en sfeer. Ook voor bijzondere raamvormen zijn verticale lamellen zeer geschikt. De trapeze rail is voor onze verticale lamellen geen obstakel. Volledig gesloten biedt de verticale lamel ultieme privacy. 
PROFIEL
Kenmerken
• Aluminium railsysteem.
• Slipkoppeling/kunststof tuimel- en onderketting met makkelijk verwisselbare lamelstift.
• Zeer eenvoudige montage met de plafondclip. De rail hangt nu strak tegen het plafond.
• Glazenwasserfunctie, waardoor de lamellen weg te schuiven zijn.

Leverbare kleuren
Lamelbreedte (mm.)
52
70
89
127
Grijsbruin (RAL 8019)
✓
✓
Zuiver wit (RAL 9010)
✓
✓
✓
✓
Grafietzwart (RAL 9011)
✓
✓
Technisch zilver
✓
✓
TYPE
Keuze in pakketzijde
• pakket rechts (R)
• pakket links (L)
• middensluiting
• omgekeerde middensluiting

Trapeze
• Bij trapeze rails langer dan 2 meter of met zeer grote hoogte / schuinte zal het pakket gedeeltelijk of geheel geborgd moeten worden.
• Trapeze maten uitsluitend volgens tekening met vermelding van basis, kleinste hoogte en grootste hoogte (rail- en lamellengte wordt per computer berekend).
• Bij tekening vermelden: I.D.D. of O.D.D., altijd strakke maten opgeven, plafond- of wandbevestiging.

STOF
De stoffen collectie wordt standaard geleverd met verzwaringsplaatjes en kunststof kettingen.

PVC
Verticale lamellen zijn toepasbaar voor zowel uw werkplek als privé vertrek. Al met al is er genoeg keuze uit onze uni, dessins, geperforeerde, houtdessins en stoere metallics lamellen.

Breedte lamellen

| | | |
| --- | --- | --- |
| | PVC | stof |
| 52 mm. | ✓ | |
| 70 mm. | ✓ | |
| 89 mm. | ✓ | ✓ |
| 127 mm. | ✓ | ✓ |

Onderhoud
De stoffen collectie is onder normale omstandigheden onderhoudsvrij. Bij een eventuele vlek kunt u het beste een droge borstel of doek gebruiken. Gebruik geen schoonmaakmiddel en vermijd hard schrobben! De PVC lamellen kunt zonder problemen met een vochtige doek reinigen.

Verkleuring
Verkleuring van een product/stof begint zodra deze in het licht hangt. Er is niet te zeggen hoe lang het mag duren voordat verkleuring zichtbaar wordt. Dit hangt namelijk samen met hoeveelheid straling en het licht dat op het product valt. Stof is ten alle tijden onderhevig aan verkleuring door zonlicht en/of uv straling.
MONTAGE
Bij de montage van een verticaal systeem spreekt het voor zich dat het systeem waterpas geplaatst wordt. Zorg ervoor dat de steunen goed uitgelijnd worden. Plaats de steunen zoveel mogelijk naar buiten (ca. 4 cm. vanaf de zijkanten). Dit om optimale steun bij het bedienen te verkrijgen.
BEDIENING
Koord- / kettingbediening
Het verticaalsysteem wordt standaard met koordbediening geleverd voor het openen en sluiten van de lamellen. De kunststof ketting wordt gebruikt om de lamellen te tuimelen.

Child Safety
Wanneer u kiest voor koord-/kettingbediening raden wij u aan om het koord met een koordklem (art.nr.181073) aan de wand te bevestigen. Zo voorkomt u gevaarlijke situaties voor kinderen. De bedieningslengte wordt bepaald afhankelijk van de montagehoogte. De minimale montagehoogte van de ketting geleider is 150 cm.
MAATNEMEN
Houdt bij het opmeten rekening met raamklinken en andere obstakels en bepaal de plaats van de bedieningszijde.
Er zijn twee plaatsingsmogelijkheden:

Plaatsing I.D.D.
Plaatsing tussen het raamkozijn of tussen de muur.
• Meet de breedte tussen het kozijn of muur op verschillende punten en trek van de smalste breedtemaat 1 cm. af.
• Meet de hoogte tussen het raamkozijn en vensterbank of vloer op verschillende punten. Trek van de kleinste hoogte 1 cm. af

Plaatsing O.D.D.
Plaatsing op het kozijn, aan de muur of tegen het plafond.
• Meet de breedte inclusief de gewenste overlapping.
• Meet de gewenste hoogte.
**Joomla! Debug Console**